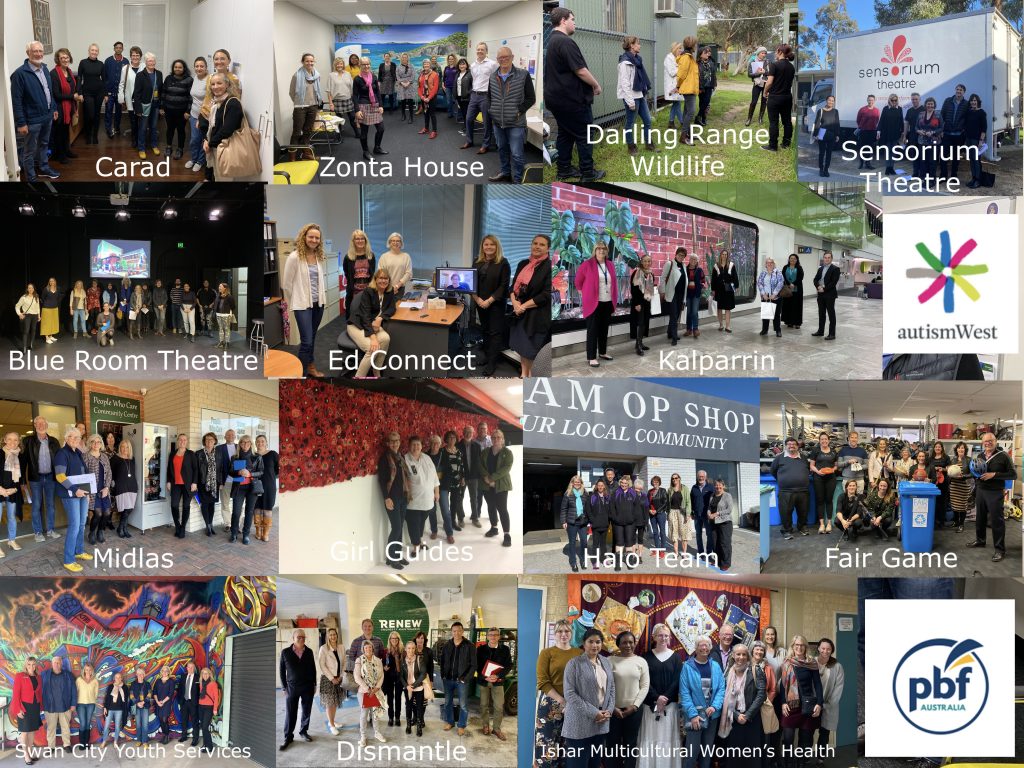 Autism West
Traditionally, Autism West's core business is face-to-face social groups, providing unique opportunities for young people on the autism spectrum to gain skills and experience, enabling them to connect successfully with others and the world around them. With our grant, they plan to prepare themselves in the areas of digital literacy, digital hygiene, use of social media, sourcing digital activities. This will enable them to deliver some of their educational activities through online sessions, thereby removing some of the barriers these young people face in attending in person (eg. social anxiety, sensory overload, communication issues).
Blue Room Theatre
The Blue Room Theatre provides unparalleled resources, support, opportunities and advocacy to the WA performing arts sector.
They plan to provide live shows, inside and out, around the Perth Cultural Centre in order to reignite and stimulate the growth of the Perth performing arts sector following the massive hit caused by COVID-19, with lockdown banning all gatherings and therefore removing the source of income for artists.
The program will be providing work for local artists, enticing people back into the CBD and reaching new audiences.
CARAD
The Centre for Asylum Seekers, Refugees and Detainees provide practical and essential welfare, advocacy and volunteer support services, as well as social enterprise opportunities through the Fare Go Truck project that we funded three years ago.
Their clients have been hard hit by COVID-19 – the first to lose jobs, no government support due to visa status and then the last to find new jobs in the now super-competitive job market. They would use our grant to expand on the Fare Go Truck project with a dedicated officer three days a week to maximise opportunities and co-ordinate all activities.

Darling Range Wildlife Shelter
Darling Range Wildlife Shelter are on the outskirts of town at Martin – they rescue and rehabilitate local wildlife and water birds.
With only one paid staff member and over 140 volunteers, DRWS struggled to be able to continue their essential service of rehabilitating wildlife during the lockdown.
With our grant, they want to do some capacity building by improving how they manage their volunteers and working to attract more support.

Dismantle
In 2018 Dismantle won our $100k grant and used it to set up ReNew Property Maintenance as a vehicle to provide real-world work experience for at-risk youth identified through their Bike Rescue program.
ReNew is going strong and supporting itself, with 28 of the 30 participants so far, now successfully transitioned into training or employment.
Their proposal to us is for the next logical (and vital) step: one-to-one case management through their Work Development Program to provide their youth employees with soft-skills, tangible materials and practical assistance to secure them ongoing employment.
EdConnect
EdConnect prepares and connects volunteers with disadvantaged or at-risk young people to increase educational success. Another organisation whose daily business was severely impacted by the lockdown.
Our funds would build capacity to bring in more volunteers to meet a never-ending demand and also develop a program to specifically encourage and support more girls into STEM subjects.
Fair Game
Fair Game provide fitness and health education programs to under-serviced communities. They also recycle unwanted (but good quality) sporting equipment to be distributed to individuals otherwise unable to access these items. Their aim is to inspire and enable children to keep active and healthy.
As a response to increased demand due to Covid-19, they would use our grant to grow and improve their Recycle & Donate program, setting them on a strong path for the future.
Girl Guides WA
Girl Guides WA have a mission to empower girls and young women to become confident, self-respecting, responsible community members. They have programs such as changing a tyre and looking after your money and they can teach you how to talk to a politician!
Their fundraising has been well and truly hampered by Covid-19 this year, as have many of their families, so our contribution to their Lend-A-Hand program for covering membership fees is going to be super important.
Halo Team
Halo Team do almost anything to ease the pressure for the homeless, disadvantaged and families in need in the Peel Region.
Covid-19 meant their op-shop had to close and their other activities were seriously curtailed (but never stopped altogether). They are requesting our funding to get them back on track and prepare them for increased demand as the longer term impacts of Covid-19 start to ripple out.
Ishar Multicultural Women's Health Services
Ishar Multicultural Women's Health Services was one of our finalists from last year and is an applicant again this year.
They provide holistic health and well-being services for refugee and migrant women and they are keen to address the high level of domestic and family violence prevalent in another culturally and linguistically diverse and seriously under-served community, the City of Gosnells. This is an issue that has been significantly worse since the Covid-19 lockdown.
Ishar know there is significant demand so they are hoping to use our funds for a pilot program of individual support by a social worker and counsellor. Once they can prove up their case they will be able to attract further funding in order to continue to provide women south of the river with a much-needed service.
Kalparrin
Kalparrin support families who are caring for a child with disability in a multitude of vital ways.
Our grant would fund them to run online, facilitated peer support groups that will connect all kinds of families, and particularly those with new diagnoses.
Taking it online means more are able to take part, fitting into busy schedules, keeping in contact from a distance, managing siblings etc.
Midlas
Midlas (Midland Information, Debt and Legal Advocacy Service) provide free family law, financial counselling, tenancy advocacy and emergency relief support for the vulnerable and disadvantaged.
They plan to widen their reach by creating a tailored mobile office that will attend where other services are provided to homeless people. This will assist Midlas in their goal of overcoming the barriers that keep the homeless on the street and will provide a hand-up rather than a hand-out.
Paraplegic Benefit Fund
PBF are dedicated to reducing the impact and incidence of spinal cord injury. Part of what they do is provide safety education to adults and children, in schools, workplaces, sports and community clubs etc. Their presenters have powerful stories to share as they all live with either paraplegia or quadriplegia. This program also provides employment opportunities to 45 people living with a permanent spinal cord injury. With Covid-19 closing down schools and clubs (and therefore losing them revenue), they want to pivot to providing online professional interactive programs and need our funding for the necessary equipment and training.
Sensorium Theatre
Sensorium are a past winner of our $100k grant (the Sensory Storytime program is going great guns – when lockdown isn't in place!). They create custom-made theatre experiences to enrich the lives of young people with disability but Covid-19 has also put their national and international touring on hold indefinitely, impacting on their income generation.
Their proposal will take advantage of this enforced downtime to do some capacity building: expanding their artist ensemble in order to respond to the ever increasing demand for their world-leading work.
Swan City Youth Services
Swan City Youth Service are based in Midland and they offer many forms of support for youth aged 12 to 25.
Their plan is based around the premise that education is empowerment. They are upskilling their staff and want to qualify as a Registered Training Organisation. Then they can enable young people who struggle in the mainstream system, for various reasons, to achieve at least a Year 10 equivalency, giving them a leg up into the world.
Zonta House Refuge Association
Zonta House Refuge Association provide refuge and transitional accommodation, holistic support services and education to women and families affected by family and domestic violence. This issue has been an increasing problem since the Covid-19 lockdown. Zonta would use our grant to continue their program, Future Employment Connections, which provides comprehensive support to improve the chances for their clients to participate in the community and achieve sustainable outcomes.