Upcoming Event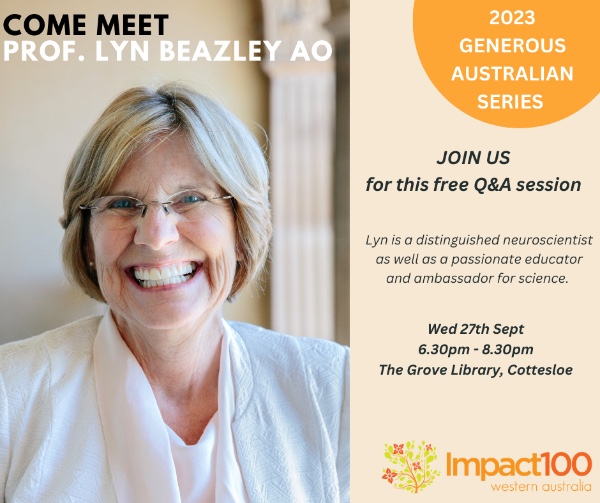 This is an evening you won't want to miss!
Generous Australians 2023
Professor Lyn Beazley AO
Wednesday, 27th September 2023, 6.30pm – 8:30pm
Lyn is a distinguished neuroscientist as well as a passionate ambassador for education and science. She was the first female Chief Scientist in Australia, serving in WA from 2006 to 2013 and continues to work tirelessly to promote education, the Arts, and philanthropy across Australia and internationally. Her contribution to society is enormous and her enthusiasm and energy are highly infectious!

We'll be running a Q&A session where we delve into how she developed this passion for science, her adventures through the world and what she's aiming to achieve through her contribution. There'll be time for questions from the audience as well, so there's no doubt we'll all come away hugely inspired.

We'll also hear an update from one of our 2022 winners: Tim Hunter, CEO of Motivation Foundation, will be sharing some thoughts that are guaranteed to reinforce how powerfully catalytic our $100,000 grants can be for an organisation and the community that it serves.
 
FREE event – bring along your friends, family and colleagues
Date: Wednesday 27th September
Time: 6.30pm – 8:30pm (arrival from 6.00pm)
Venue: The Grove Library, 1 Leake St, Peppermint Grove
Afterwards, we invite you to remain for a drink and to mingle.
---
Other Events Coming Up This Year 2023…
---
Grant Awards Dinner
(Mid October TBA)
The Impact100 WA Annual Grant Awards Dinner is the most important event of our year!
It's the culmination of the assessments, site visits, referee checks and big discussions, where all those who have made their donations have the opportunity to decide which worthy applicants should receive our pooled donations and be set on their journey to create transformative change in our community.
The evening includes:
Wining, dining and celebrating in a premier location
Pitches by the five finalists
Voting by all donors to determine the recipients
Awarding of the Primary and Runner Up Grants
We also offer you the opportunity to fill part or all of a table (max of 10) with family, friends and colleagues. The presentations, atmosphere and location are all pretty special and this is the perfect time to showcase what we're all about.

Invite your friends to become part of this collective giving journey
Newcomers are always welcome – if they get involved, too, then we can make an even bigger difference in our community!
We look forward to seeing you at our premier event!
---
Past Events in 2023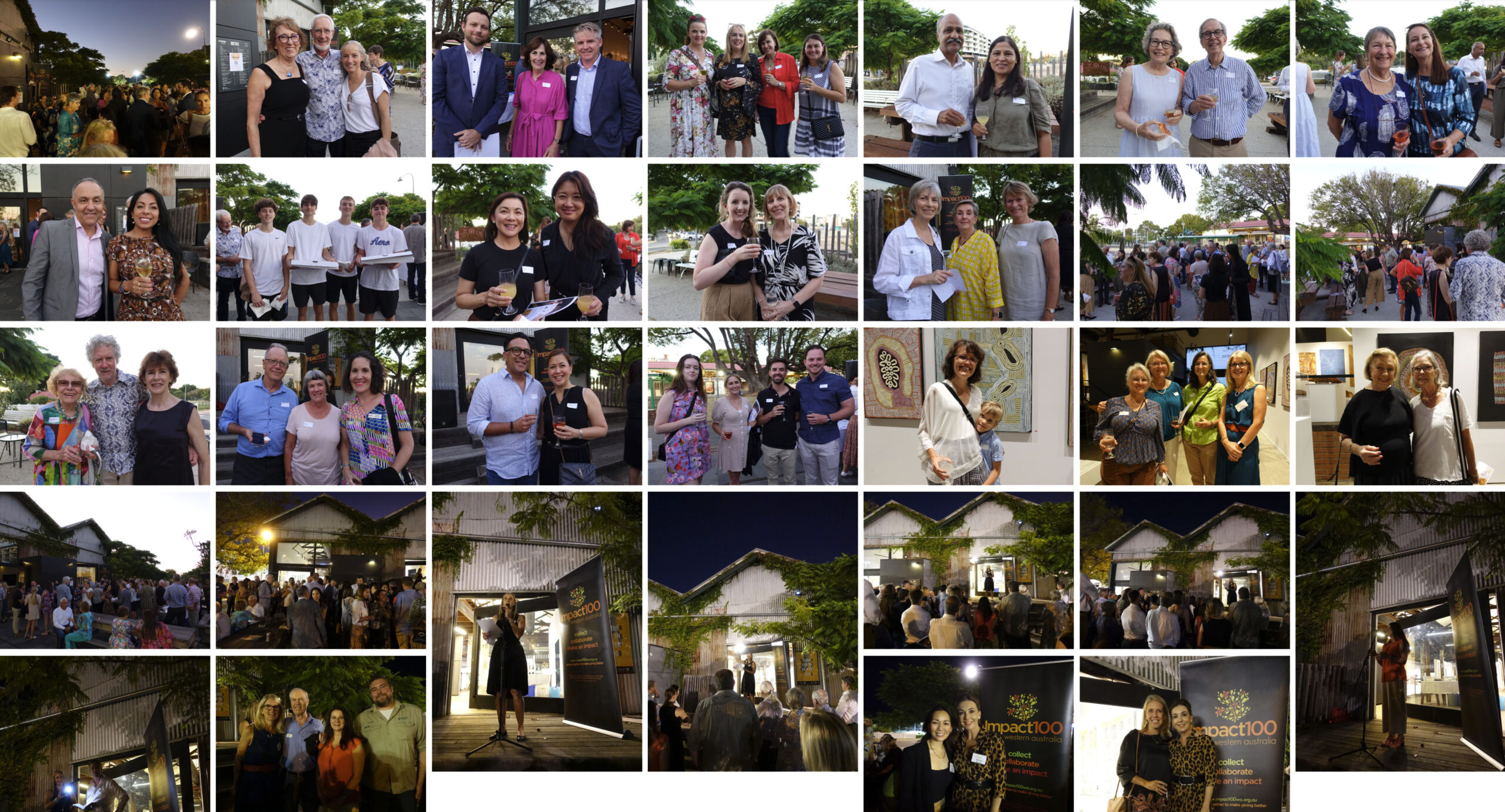 Kickstart Sundowner
(15 March 2023)
Every March, we launch our brand new giving year with a Kickstart Sundowner Event.Current and past donors invite family and friends to share and showcase the joy and power of collective giving, and encourage others to get involved.
There are inspiring updates from previous grant recipients along with a short summary of how we go about making these transformational grants. We encourage everyone to get involved and help create an even bigger impact! It is often a wonderful evening under the stars, forming a great sense of collective passion for community.
For the 2023 year, we heard updates from previous $100,000 grant recipient(s):
2022 – Motivation Foundation: Hear about their purchase of a 3.5 Tonne mini excavator which will improve training quality, as well as enabling students to get real-world and useful experience by participating in local community projects.
2022- Trillion Trees: Hear how their 'Sprout" school education program is coming along.
---
We were very grateful to our friends and their organisations whose support helps to make our events so much better:
FORM, our very generous hosts, whose excellent exhibition, Really One Story, you can enjoy on the evening
Mareena Weston Real Estate, our Kickstart event sponsor
Silverstream Wines from Denmark, for the lovely wines we continue to enjoy at several of our events.