Join us to make a difference
We are West Australians of all ages and backgrounds pooling our donations to make an extraordinary, lasting and positive impact to the quality of life in our state.
By helping us, you'll be helping local grassroots organisations, giving them access to a transformational grant that will change lives – and you'll get to be a part of the selection process.

Your donation will be an important part of creating two (or more!) game-changing grants of $100,000.
Donations are fully tax-deductible and the whole $1000 donation goes directly toward the grants.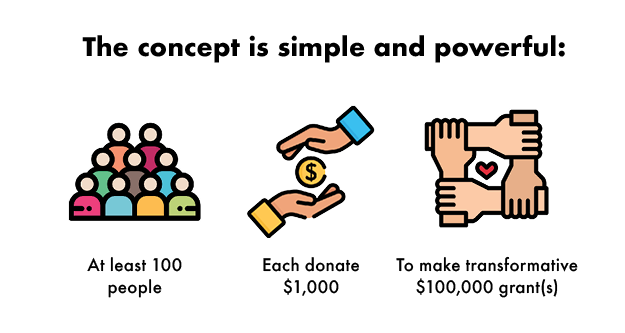 If you would like to learn more about joining Impact100WA, please email our Donor Engagement Coordinator,
Lia Simmonds at info[@]impact100WA.org.au
---
Donation Information
We are a sub-fund of the Australian Communities Foundation (ACF)
When you click on the Donate button above, you will be taken to our Donations Page hosted on the website of the Australian Communities Foundation. Donations are made through their secure payment page.
Recurring and One-Time Donation
The One-Time Donation option will have been automatically selected, but you are welcome to make a Recurring Donation.
The Recurring Donation option allows you to set and forget – it will take payment for this year and then again annually until the date you have indicated (if any).
If you choose "Recurring Donation" then please ensure that you also select 'Year' from the dropdown box as Impact100 WA are unable to process by 'month' or by 'quarter'.
An extra (tax-deductible) contribution of $100
Adding $100 to your donation to go towards our (unavoidable) admin costs will be hugely appreciated and you can rest assured that any additional donations we don't use will go straight into our grants.
How did you hear about us?
On the Donations page "Notes" box, please feel free to give any extra details, such as how you came across Impact100 WA or who else is included in the donation.
Privacy – I wish my donation to remain anonymous?
If you tick the Privacy checkbox – "I wish my donation to remain anonymous",
you will receive a tax-deductible receipt
but you won't receive any contact from us about this great collective giving that you are now part of, which would be a shame.
Organisation Name
If you make the donation under an organisation name, it is worth providing your name as the Recognition Name so that we can more easily identify you.
In due course, your details will be passed back to Impact100 WA so that we can then properly welcome you.
PAF Donations
While the ACF cannot accept donations from a PAF, we do encourage you to be part of Impact100 WA and we are able to make it work for you: Contact us here for more info
---
'Remember, if you ever need a helping hand, you'll find one at the end of your arm … As you grow older you will discover that you have two hands. One for helping yourself, the other for helping others.'
Audrey Hepburn, Actress.