What is Impact100 WA?
Impact100 WA is a collective giving group that pools its donations to make a significant difference in areas of need in Western Australia.
How does it work?
We gather at least 100 people who each donate $1,000, with the goal of significantly impacting at least one local not-for-profit organisation through a donation of $100,000.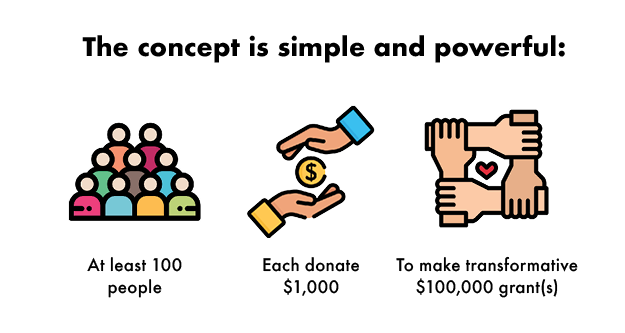 What makes us different?
We are WA focused and support local, smaller not-for-profits here in our community.

Each donor can determine their preferred level of engagement throughout the year.

Each donor has one equal vote to decide who receives the $100,000 grant(s).

100% of every $1000 donation goes towards the grants.

The grant application and assessment process is well structured with strong due diligence.
Our impact so far!
$2,405,000 in direct grants by Impact100 WA

$100,000 x 18 Primary grants
$50,000 x 6 Primary grants
$20,000 x 2 Minor grants
$10,000 x 25 Minor grants
$5,000 x 3 Minor grants

$1,162,000 (at least) in separate grants by our donors
$30,028 donated by YoungImpact
46 separate local not-for-profit organisations have received grants and been highlighted
Grant strategy
Our grant strategy includes making Primary Grants of $100,000 each year. We want to have an extraordinary impact, with each Primary Grant being a game changer – empowering the receiving organisation to dream bigger.
Who benefits?
The grant recipients and the WA community, of course!
But also, our donors will experience the satisfaction of being involved in engaged philanthropy within WA, knowing that their contribution becomes part of a transformational grant, funding projects within local communities and improving quality of life.
Successful grant recipients also benefit from raised public profiles, potentially attracting additional funding. Any organisation unsuccessful in attracting an Impact100 WA grant may find new avenues of funding as a result of undergoing the review and selection process.
Involvement
Donors can be as hands-on or hands-off as they like and they all have the opportunity to be involved in the grant decision-making process. Check out our Get Involved page for more info on this.
Take a look at Our Timeline to get a better understanding of our process, meetings and events.
Other opportunites
Impact100 WA is not only about responding to community needs, it is equally about providing educational opportunities to our members. Presentations by applicants and not-for-profit leaders will offer rare insights into the communities around us, thereby encouraging further engagement as donors, volunteers or mentors.
---
Read our Summary Sheet or download and share it with someone you know.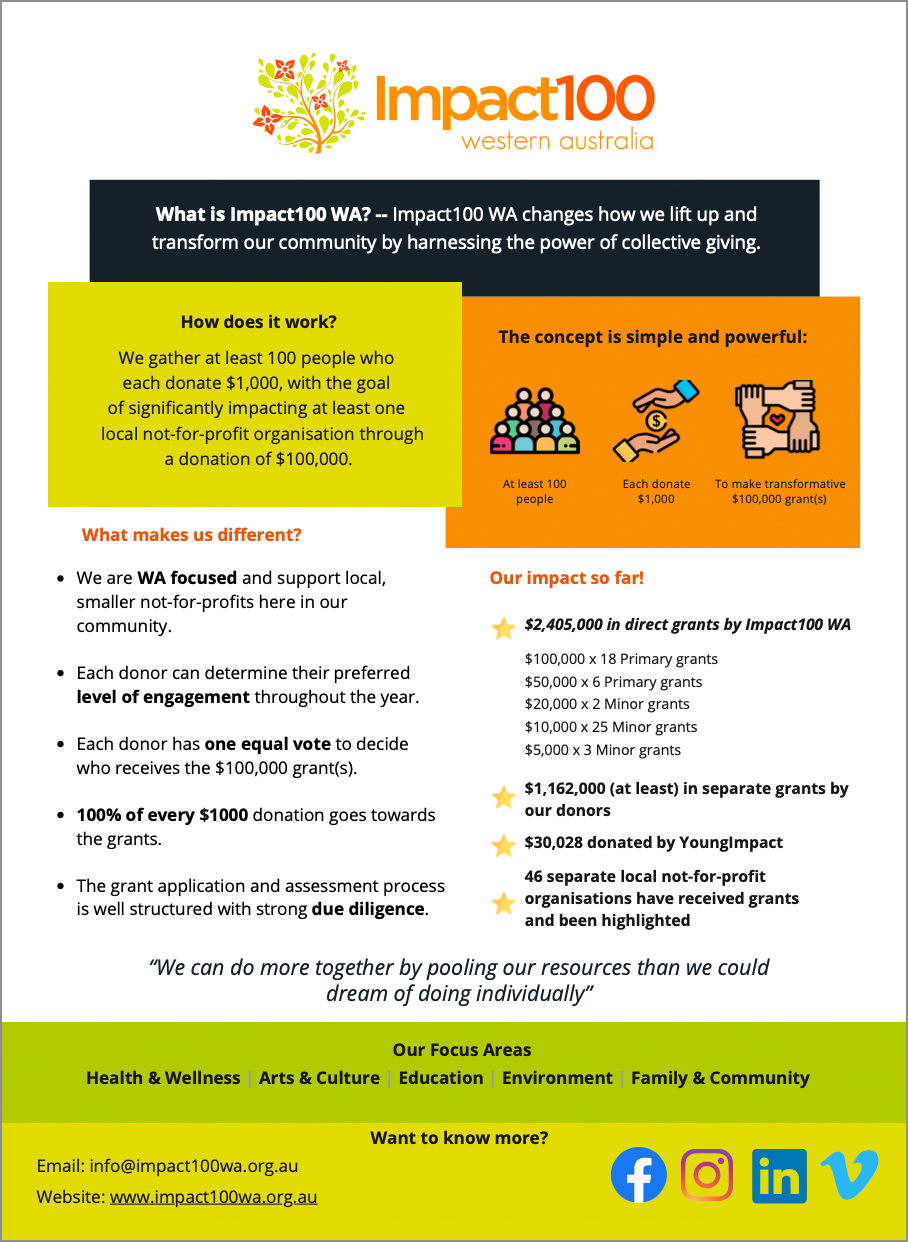 ---
For a great overview of what we do and what has been achieved since 2012, have a look at our Review Booklet 2012-2021 by clicking here

.

---
'To give away money is an easy matter and in any man's power. But to decide to whom to give it and how large and when, and for what purpose and how, is neither in every man's power nor an easy matter.'
Aristotle, Greek philosopher 384-233 BC.