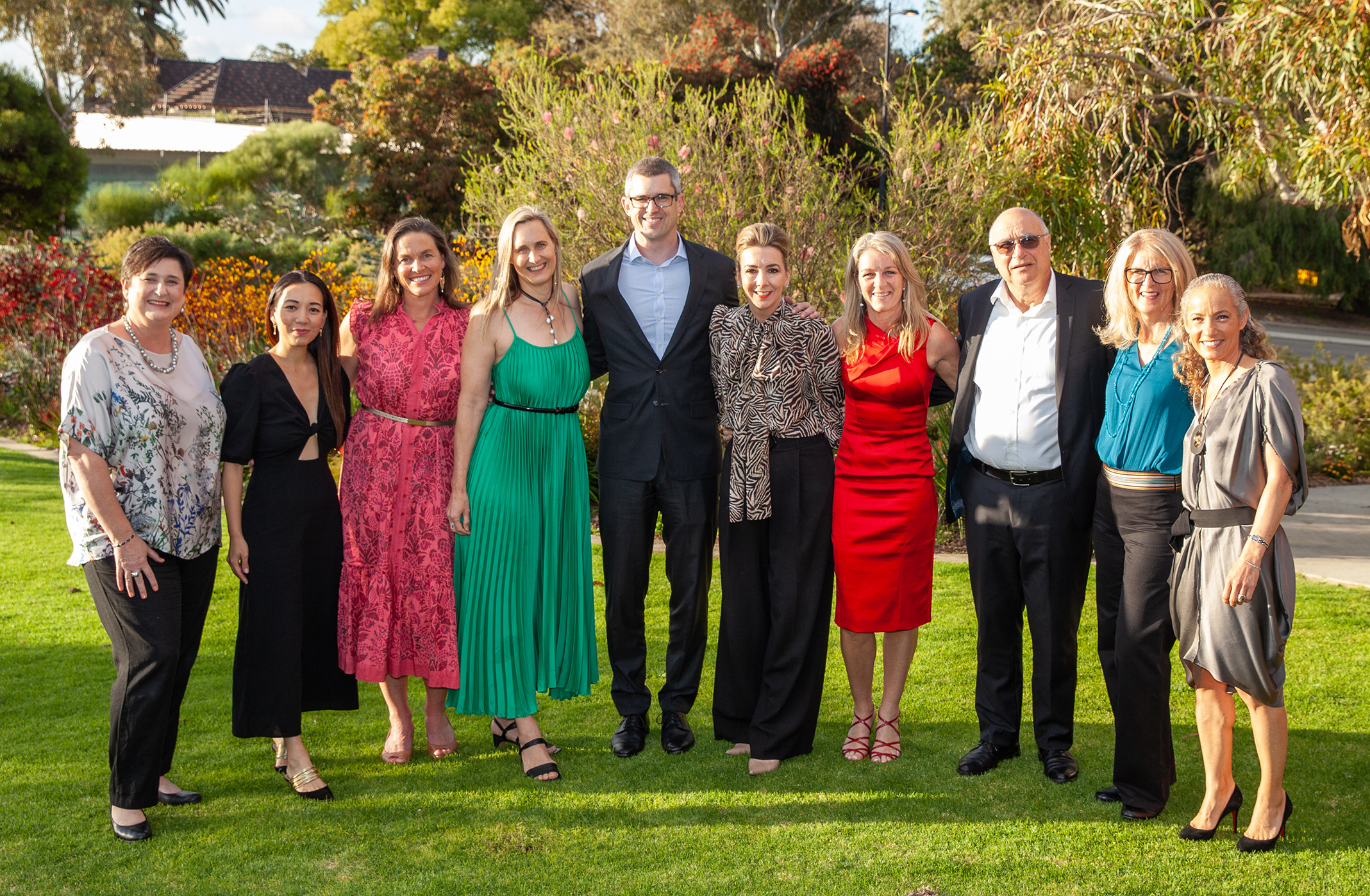 (Our 2022 Impact100 WA committee)
Who We Are
We are West Australians of all ages and backgrounds pooling our resources to make a lasting positive impact on the quality of life in our state.
Our Mission
We aim to provide high-impact grants that reach under-served populations, raise the profile of deserving but lesser-known not-for-profit organisations, highlight unmet needs in our region and increase involvement in philanthropy across Australia.
Our Values
Collaboration
Education
Sustainability
Impact
Transparency
Community Commitment
Our Patron
Nicola Forrest has been an outstanding supporter of Impact100 WA, bringing her influence and connections, and we are extremely grateful for her strong involvement.
Click here to read more about our patron, Nicola Forrest.
2023 Committee Members
Bruce Byrnes
Sophie Chamberlain
Karen Cheng
Cécile Crochu
Simone Eley
Matt Gent
Michelle Morgan
Felicity Ruse
Wendy Scott-Hamilton
Click here to see our Biographies
Also on the team is our wonderful Donor Engagement Officer – Lia Simmonds.
How it started
Impact100 WA was started in late 2011 by a group of friends who wanted to contribute something significant to their community. It began with a discussion about how to make philanthropy easier for those around us and was fueled by an introduction to the work of the Impact100 groups in the US. By March 2012 we were ready to launch and the first grant was made in December 2012.
Click here to see articles about us in the Press
Increasing Philanthropy
One of the goals of Impact100 WA is to increase philanthropy in Western Australia and Australia. We are doing this in two ways:
We are providing a means for those unsure of how to get involved to sample the sense of satisfaction that comes with giving back to the community and seeing the impact of our actions.
We are also raising awareness amongst our donors of some of the many worthwhile not-for-profit organisations that exist in WA through our research and review process. This may then inspire them to become involved with these organisations in a more personal way.
Background of the original Impact100 concept
In 2001, Wendy Steele gathered 100 friends and business associates in Cincinnati, United States of America, with the idea of forming a collective giving group to support sustainable solutions for people lacking access to basic necessities like health care, shelter, education and job training. Received with enthusiasm, the group named itself Impact 100.
In its 10th anniversary in 2011, the group celebrated grants of over $1.8 million to nonprofits in the greater Cincinnati and northern Kentucky community.
There are now 58 Impact100 groups across the US and in 2012, Impact100 Western Australia was the first in Australia.
In the USA, 65% of Giving Circles offer donors workshops and speakers on community issues;  56% offer speakers on philanthropy and giving; and 27% offer donors how-to workshops on proposal evaluation and understanding nonprofit budgets (Bearman: 2007).
But it's the spin-off effects of Giving Circles in America that's really interesting. 76% of Giving Circle donors reported that their awareness of community problems had increased (Eikenberry and Bearman: 2009); 35% of Giving Circle donors contribute additional money to charities they have come across through the Circle; 65% end up volunteering; 32% offer pro-bono support; and 43% end up sitting on nonprofit boards (Bearman: 2007).
More people in Western Australia would be philanthropic if inspired to be so.
Giving circles can offer this inspiration to all by their very nature – inclusive, engaging and enriching groups of community minded people, compassionate to others in need.  Most Giving Circles require a $1000 annual gift or less, and yet this single donation opens the door to the enriching experience of powerful philanthropy.
'Philanthropy is about finding opportunities to fund work which is innovative and imaginative and where the grant has a good chance of making a difference.'  
Joseph Rowntree, Charitable Trust UK