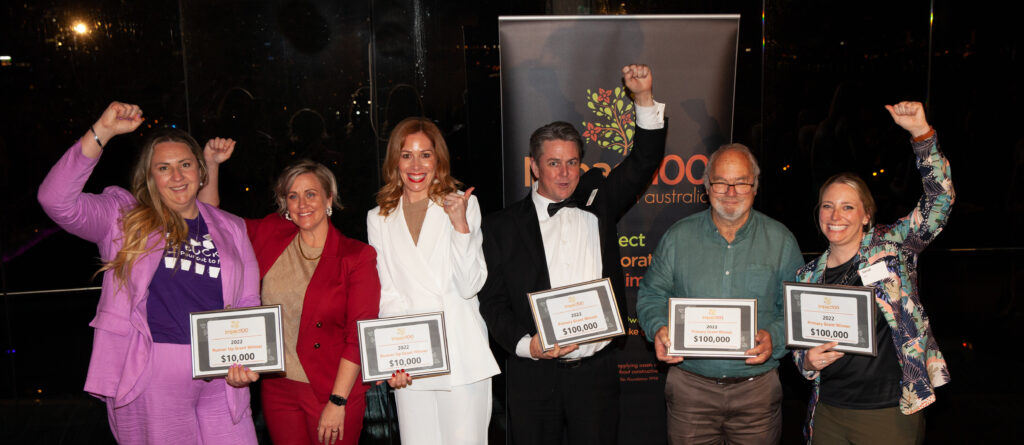 Another Amazing Year!
Thanks to an incredible outpouring of generosity in the room on the night of our Grant Awards Dinner, we were able to make THREE grants of $100,000 and increase the amount of the Runner Up grants to $20,000!
Our 2022 Primary Grant recipients were:
Motivation Foundation – Plant Upgrade (3.5 tonne Mini Excavator) to support community projects
Assisting disengaged and educationally at-risk young people to become job-ready by building qualifications and life-skills through the use of mentors. Funds will purchase a 3.5 Tonne mini excavator (with an excellent future trade-in deal) which will improve training quality, as well as enabling students to get real-world and useful experience by participating in local community projects. Creates a blueprint for future funders to repeat the deal with other much-needed equipment.
Impact 109 students directly each year plus benefit of $150k per year pro bono to local community.
Trillion Trees – SPROUT – Grow the Trillion Trees Schools Pgm
Expand school program: to re-connect the next generation with creating and maintaining a healthy planet, incl educating on the effects of land-clearing, the importance of trees and then propagation, cultivation and planting of native seedlings. Also formalise the program so more volunteers can implement it, reducing key-man risk.
Funding for co-ordinator, travel and transport costs (incl hybrid vehicle), curriculum docs preparation, seeds and propagation materials, promotion.
Enable 20-30 more schools (metro and regional) which will benefit 2000 children/people plus the environment ongoing.
Fair Game

– Kimberley Game On! After School Program
In Broome and Kununurra, locally based project officers will build and support a group of local volunteers to run after school sessions for local children. Positive engagement activities to provide a diversion for at- risk local youth at times when other services aren't available. Will support the development of disengaged and marginalised children and youth through mentoring, sport and recreational activities in a safe environment. Will also strengthen the communities generally.
Funding staff costs, food, equipment, training. Impacting 200 + children.
---
Two Runner-Up Grants of $20,000 each were made to:
Some children show less resilience at school due to adverse childhood experiences or trauma. There their one-to-one mentoring program, 12 Buckets aim to create a safe space for kids to focus on themselves, establish connections and be challenged to grow.
Their mission is to use exercise expertise to improve the health of kids and young people. They celebrate uniqueness and diversity and offer an inclusive exercise environment for all to participate and improve physical and mental health outcomes through fun, evidence-based exercise programs.
---