Our Generous Australian for 2022 is Professor Fiona Wood.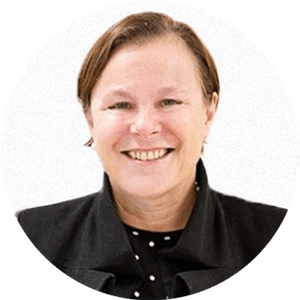 Fiona is a world leading burns specialist, plastic and reconstructive surgeon, medical researcher, mother of 6 and was the 2005 Australian of the Year. She also runs the Fiona Wood Foundation. 
How does she fit it all in? What motivates her to keep going? What is the work of her foundation?
Join us for the Q&A, add your own questions and stay to gather socially afterwards at The Albion Hotel across the road.
FREE EVENT- Wednesday 17th August 2022
7.00pm – 8:30pm (arrival from 6.30pm)
The Grove Library- 1 Leake Street, Peppermint Grove
Please book your tickets online here
One of the key goals of Impact100 WA is to provide valuable educational opportunities for West Australians interested in philanthropy. Every year we hold our Generous Australians event where well-known Australians who have given back to our community are invited to a Q&A session to discuss their stories, their motivations and their activities, in order to provide insight and inspiration to the wider public.
2013 – We spoke to leading businessman and philanthropist Andrew Forrest.
2014 – Janet Holmes à Court shared her lifelong experiences of social and business entrepreneurship.
2015 – Malcolm and Tonya McCusker, both high profile WA community people and generous givers.
2016 – Kerry Harmanis, champion of philanthropy in Western Australia.
2017 – Nicola Forrest openly and honestly shared her journey of philanthropy.
2018 – Gerard Neesham took us through the challenges and highs of building the Clontarf Foundation.
2018 – Charlie Bass, founder and Chairman of the Centre for Entrepreneurial Research & Innovation (CERI).
2019 – George Jones, former board member of Parkerville Children and Youth Care and a strong supporter of both the

George

Jones

Child Advocacy Centre and the Ear Science Institute of Australia.

2020 – Annie and Caitlyn Fogarty, a mother and daughter team who are the Executive Chair and Executive Officer, respectively, of the Fogarty Foundation.

2021 – Dr Bruce Robinson, founder of the Fathering Project and WA of the Year in 2013.
---
Generous Australians 2020 – Annie and Caitlyn Fogarty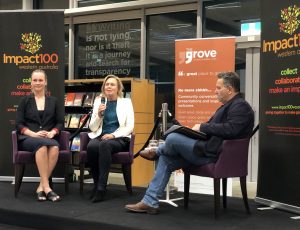 Annie and her husband, Brett, founded the Fogarty Foundation some 20 years ago with a view to addressing disadvantage in WA by focusing on education, in order to support young people to reach their full potential and to build stronger communities. Caitlyn has been part of it for the last 12 years, firstly on the board and now as their chief exec. They shared their knowledge of the sector and their views on how it could be improved. Their passion and commitment was clearly on display for all to see!
Generous Australian 2019 – George Jones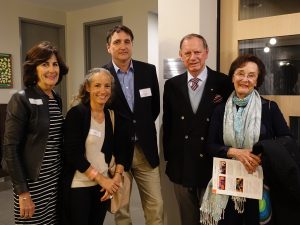 George shared the story of how he grew up at Parkerville Children's Home and later became a member of their board.  He had to work very hard to achieve his current position in life.  He left Parkerville when he was 15, with £20 given to him to last a month.  He caught a train into town and found a place to board.  He talked about fundraising for charities as well and believes it is a matter of asking the question (maybe multiple times) and not being turned off by receiving a no in response.
---
Generous Australian 2018 – Charlie Bass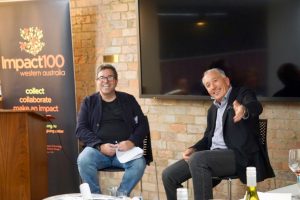 Charlie generously hosted us at the organisation he founded, the Centre for Entrepreneurial Research and Innovation and gave us a tour of their facilities. Charlie shared some of his experiences as an entrepreneur – both great success and, at times, failures. He is also a highly regarded philanthropist, having established the Bass Family Foundation back in 2006 to provide education for disadvantaged rural children and he happily discussed the great pleasure this has brought to his family.
Generous Australian 2018 – Gerard Neesham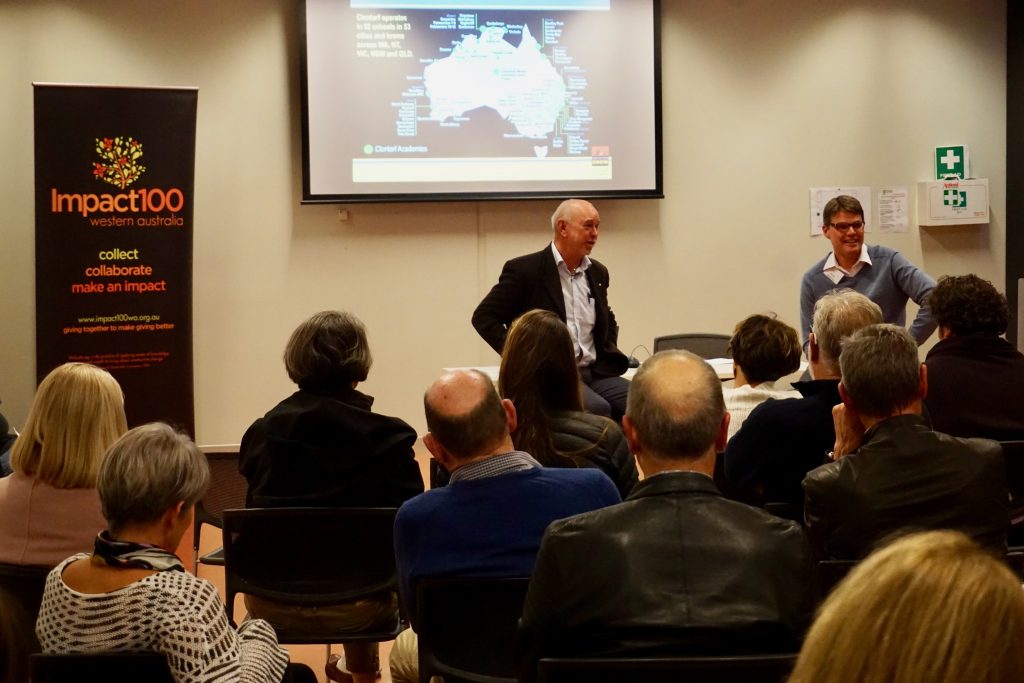 Gerard shared how the Clontarf Foundation uses sport as a vehicle to deliver life lessons to vulnerable and at risk boys. They aim to improve the education, discipline, life skills, self-esteem and employment prospects of young Aboriginal and Torres Strait Islander men. With costs of juvenile detention running up to $350,000 per child per year the $7500 per boy per year participation cost in a Clontarf Foundation program is quite literally a bargain.  Their success speaks for itself with 80% of program participants going on to employment within 6 months of finishing.  Gerard's enthusiasm for the Foundation and its future plans was contagious and he is aiming high, wanting to make Clontarf Foundation sports programs available to every government school in Australia.  Click here to read more about Clontarf Foundation
Generous Australian 2017 – Nicola Forrest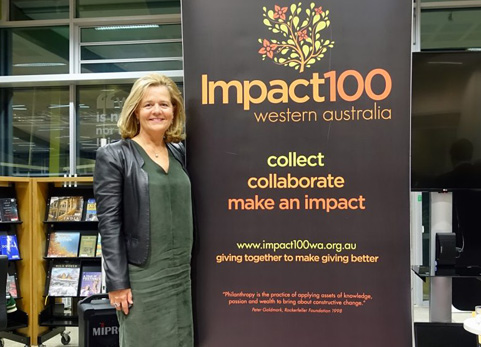 Nicola shared her philanthropy insights into:
Why she does it – instilled from early on and once she's involved, she just want to do more.
Who inspires her – Jeff Skoll, ex-eBay president, philanthropist and founder of a production company designed to bring about social change.
How they choose what to support – they look for people who are being innovative and creative (very much like Impact100 WA).
Why they are leading the charge in being loud and proud about their work – to provide leadership to others with the capacity to make a big difference.
How to pass on the culture of giving to the next generation – ignite the spark through their particular interests.
---
Generous Australian 2016 – Kerry Harmanis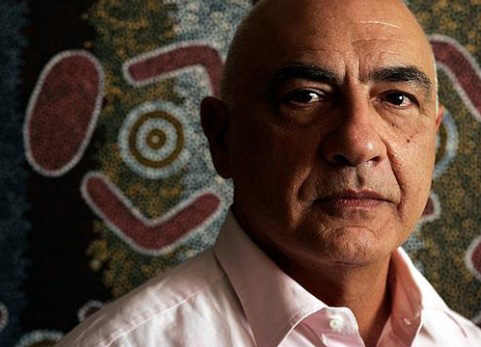 Beginning as a lawyer, moving on to selling fish then to prospecting and nickel mining before turning his attention to the philanthropic scene, Kerry had a multitude of interesting stories and experiences to share as he spoke to the full house about his giving and imparted his hard-earned wisdom to those wanting to do their bit, too. His advice ranged from the general ("Give with no expectation of getting anything back" and "Have fun, every day is a gift") to the specifics of his giving philosophy, such has how to say no ("I'm maxed out on my budget for giving" which he usually is!) and how he measures the outcomes of his gifts ("I go with my instincts and then I have to trust").
He named prominent Western Australian philanthropists such as Nicola Forrest, Janet Holmes á Court and the McCuskers as providing inspiration to him but also expressed his admiration for all those who work hard behind the scenes.  Kerry was the very first official donor to Impact100 WAback in 2012 and he was happy to acknowledge his admiration for those who give their time and support to make it the success it is.
---
Generous Australians 2015 – Malcolm & Tonya McCusker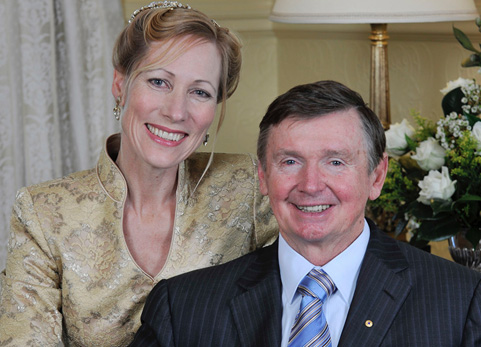 Malcolm and Tonya McCusker are possibly Western Australia's best recognized philanthropist couple particularly after Malcolm's stint as Governer of WA from July 1, 2011 to 30 June 2014. Malcolm was made an Officer of the Order of Australia for his services to law in 2005, a Companion of the Order of Australia for his services to the community (2012) and has received 2 WA Citizen of the Year Awards.
He has been patron of more than 100 organisations and remains actively involved in WA's philanthropic culture through the family foundation: The McCusker Charitable Foundation of which Malcolm is Chairman and Tonya is a Trustee and Administrator.
The former WA Governor and his wife discussed their pursuit of philanthropy as a platform for change, their experiences with it and what they see as the future of giving.
---
Generous Australian 2014 – Janet Holmes a Court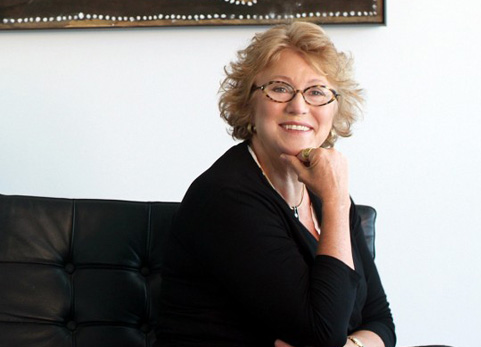 Janet is one of Australia's most awarded women. She has 6 honorary degrees, is an Office of the Order of Australia as well as being a Companion of the Order of Australia.  She has won UK Veuve Clicquot's Business Woman of the Year, become a National Trust Living Treasure and received the esteemed John Shaw Medal.
Janet Holmes à Court also has a very public face as a leading philanthropist.  She is currently the patron of 20 organisations and board member to many of WA & Australia's key arts institutions including the West Australian Symphony Orchestra.
---
Generous Australian 2013 – Andrew Forrest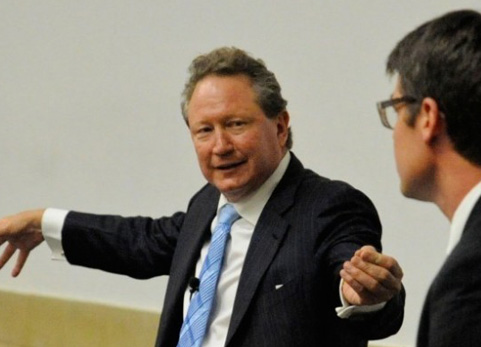 Around 200 people filled the lecture theatre at UWA on a very chilly evening to hear Andrew outline how any why his family gifts funds to charitable causes.  After an introduction to the work of Impact100 WA, Andrew took to the floor and fielded questions covering many aspects of his philanthropic journey.
He discussed indigenous affairs as they relate to his business and philanthropic activities.  He was asked whether he believed wealthy people should give more for which his response was that he felt they could be considered to be 'doing their bit' if they were busy creating jobs and boosting the economy.  And, despite causing a few gasps with his statement "when I gave away my first 100 million dollars" he did raise the point of how generous Australians have been accused of going for the 'tax dodge' when they stick their heads above the parapet, declaring their generosity.
The take home message of the informal interview style presentation focused on how all individuals within a community have the opportunity to contribute at any scale and make changes for the better