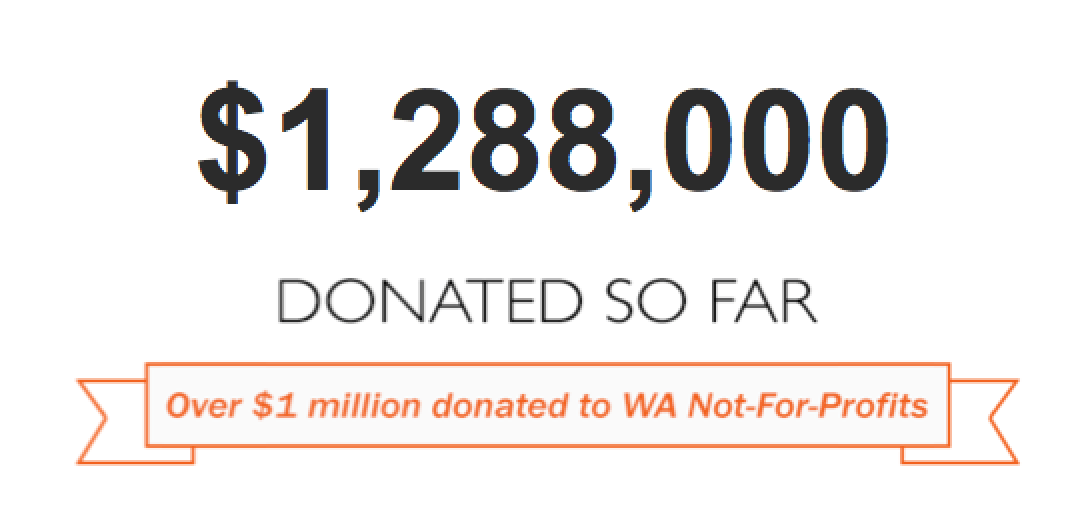 The original idea for a collective giving group in WA was conceived in 2011 over a glass of wine (or two) shared by our Chair, Simon Bedbrook, and a couple of other committee members. Soon afterwards, the Impact100 model was was introduced by James Boyd following a research sabbatical to the US. Our slightly adapted version, Impact100 WA, was launched in May 2012. It was the first international chapter of the  American concept which is active in over 14 US cities.
In just under 7 years, Impact100 WA has been proud to reach some amazing milestones as well as inspire others to setup new Impact100s in Australia and other giving circles.  Below is a quick overview of what we have achieved since our inception.
Milestones Since Launch in May 2012
Launched at Government House in May 2012 with GivingWest and the Governor of Western Australia
Impact100 WA has granted $1,288,000 since May 2012
There are now 7 active Impact100 groups in Australia: WA, Freo, Melbourne, South Australia, Sydney North, Sydney as well as Tasmania and other new collaborative giving circles (modelled on Impact100 but called something else) that have to date distributed close to $1.5 million
By the end of 2016 these new collective giving groups have distributed nearly $3 million in public donations as grant money
In 2015 Impact100 WA gave their first multiple $100,000 grants with $230,000 being given away
Local charities Manna Inc, edventures, Homeless Healthcare (formerly known as Mobile GP) EON Foundation, Kalparrin, Sensorium Theatre, Huntingtons WA, CARAD, Dress for Success, Dandjoo Darbalung and Dismantle have been the first 10 recipients of the Impact100 WA Primary Grant
Over 100 charities have been provided the opportunity to pitch their projects to new potential donors
The extended benefits of connecting donors to charities include additional donations made by Impact100 members after being introduced to a charity, offers of pro-bono support and volunteer hours
Eight community education events have been hosted:

An Evening with Andrew Forrest at UWA in June 2013,
Colleen Willoughby from the Women's Washington Foundation in collaboration with BankWest in August 2013 with 'The Power of Collaborative Giving' tour
Janet Holmes à Court in August 2014
Tonya & Malcolm McCusker (ex Governor of WA) in May 2015
Kerry Harmanis in August 2016
Nicola Forrest in August 2017
Gerard Neesham in June 2018
Charlie Bass at the Centre for Entrepreneurial Research and Innovation (CERI) in August 2018
In April 2014 Impact100 WA launched YoungImpact100 for children of donors aged 6-18
In August 2014 YoungImpact100 granted $3225 to the Foyer on Oxford who provide accommodation for young homeless people from 12-25
In August 2015 YoungImpact100 granted $3402 to CanTeen Australia who work with young people living with cancer
In October 2016 the YoungImpact100 group gathered again and were able to grant over $3400 to TADWA (Technology Assisting Disability WA) whose Freedom Wheels program modifies standard pushbikes to enable those with disabilities to ride a bike
In October 2018 YoungImpact granted $3085 towards the Esther Foundation Catergirls project which took their total grant earnings to $13,085 including the Impact100 WA grant – money that will buy some well needed catering equipment for the girls
We think there's plenty to celebrate here and if you'd like to join us in continuing to reach our grant giving goals continue then click here to donate.
---
Impact Review 2012 – 2016
We're proud to introduce our first publication!
Find out all about what the first 4 years have been like for us, our members and our Primary Grant winners – it makes for inspiring reading.