It was an amazing night!
First of all we had the big announcement that we would be able to make the THREE grants of $100,000. This is a great endorsement of everything Impact100 – the word is spreading further, more people are understanding the power of collective giving and that means more charities will benefit.
Then we had a matching grant announced: for the next ten people in the room who signed up, their donation would be doubled. Such was the enthusiasm that we had 14 people start their collective giving journey and the generous proposer agreed to match all of them!
In front of a completely full house, the five finalists pitched their proposals, aiming to convince us that they were the ones that needed to receive one of our precious voting pebbles!
It was such a difficult decision as all five presentations were impassioned and inspiring. The importance and potential outcomes from their proposed initiatives were made so clear and present that the donors in the room (and there were many!) struggled to choose between them.

The final results were close, which is a testament to how well our assessment process helps the best ones rise to the top.

It definitely was a relief that, due to having more donors than ever before, we were able to make THREE grants of $100,000.
The official results
Grants of $100,000 were awarded to:
Arts Law
Cycling Without Age
Family Inclusion Network WA
And grants of $10,000 went to:
Special Olympics WA
Trillion Trees
You can read about their plans for spending the funds by checking out our website:
2021 Winners and Runners Up
But wait! There's more…
We had a very generous donor in the room who was swept along by the presentations and felt strongly enough about the runners up and their programs that they put up an extra $10,000 for each of them, putting them well on the track to achieving greater things in the coming year.
YoungImpact also announced their grants on this night
As a great result, the generous and enthusiastic participants of YoungImpact, who undertook all sorts of fundraising activities and between them pooled $2600, came up with a tie for who should receive their hard-won dollars, even after a second vote! So they decided the best option was to give them half each. As a result,
$1300 was awarded
to each of:
Special Olympics WA
Eat Up Australia (a shortlisted organisation for Impact100 WA)
Luckily, Special Olympics were in the room so a formal presentation was able to be made.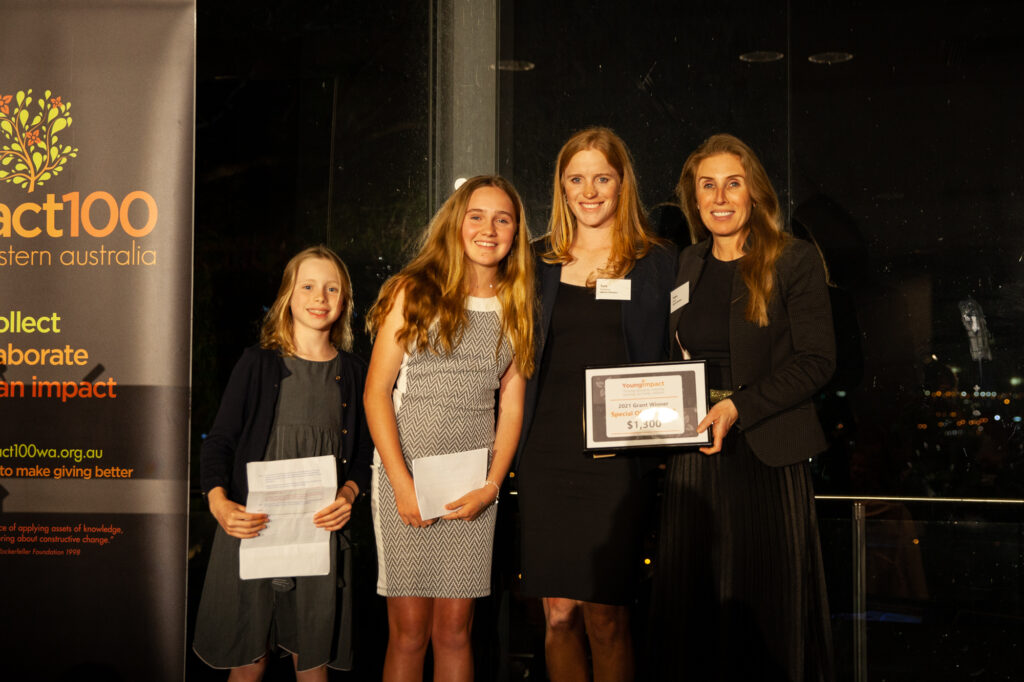 Photo credits: Georgina Barker Photography